A Siamese mixed cat is a cat that has Siamese ancestry but has been bred with another breed. The most common species mixed with the Siamese include the Domestic Shorthair, the Oriental Shorthair, and the Balinese. These cats inherit some of the characteristics of their Siamese parents, such as their striking blue eyes and affectionate nature. Still, they also have features unique to their other parent breeds.
The History of Mixed Siamese Cats
Siamese cats have a long and storied history, dating back to ancient Siam (modern-day Thailand). These cats were respected for their intelligence and loyalty and were often kept by royalty and wealthy families.
The first Siamese cat to come to the United States was a gift to President Rutherford B. Hayes in 1878. Since then, Siamese cats have become one of the most popular cat breeds in the United States.
Siamese mixed cats are a recent development but have quickly gained popularity among cat lovers. Breeders have been crossing Siamese cats with other breeds for decades, resulting in various Siamese mixed breeds.
Some of the most popular mixed breeds in Siam include the Siamese Persian (also known as the Himalayan), the Siamese Ragdoll, and the Siamese Bengal. Each of these breeds has its unique characteristics and personalities, but all share the intelligence and charm of their Siamese parent breed.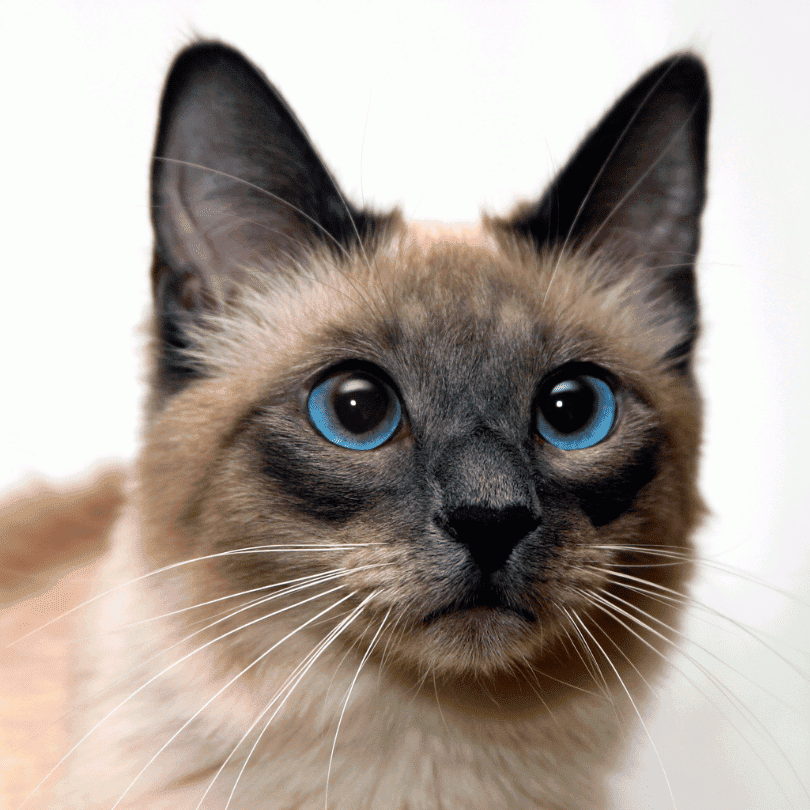 Characteristics of a Siamese mix Cat
Siamese mixed cats are known for their intelligence, playfulness, and lovable personality. They are also incredibly vocal, with a loud and distinctive meow that sometimes sounds like they are "talking" to their owners. Siamese mixed cats are also highly social and crave attention from their owners, making them great family pets.
Another characteristic of Siamese mixed cats is their unique coat patterns. Depending on the other breed of their parents, they may have stripes, spots, or a combination of both. Their coat colours can range from the traditional Siamese sale point to more unusual shades such as lilac or chocolate.
Table of Contents

Care for a Siamese mix cat
Siamese mixed cats require proper care to stay healthy and happy like all cats. They need regular grooming to keep their coat clean and free of mats. Siamese hybrid cats are also known to be prone to dental problems, so regular dental checkups are essential.
In terms of diet, Siamese mixed cats have a high metabolism and need a high-protein diet to stay healthy. Owners should always ensure that their cats have access to fresh, clean water.
Training and Socialization for Mixed Siamese Cats
Siamese mixed cats are intelligent, eager to please, and relatively easy to train. Positive reinforcement techniques, such as using treats and praise, work well with these cats. They respond well to clicker training and can learn tricks like getting through hoops or jumping.
Socialization is also essential for Siamese mixed cats, as they are highly social animals that crave attention and interaction. Kittens should be socialized from an early age so they feel comfortable with new people and environments. Introducing them to new experiences, such as car rides or different sports, can also help build their confidence and prevent anxiety.
Siamese cats enjoy interactive playtime, such as chasing toys or playing hide and seek. They are active cats that need regular exercise to stay healthy and happy. Providing them with a scratching post and toys can also help prevent destructive behaviour.
Health Concerns for Siamese Mixed Cats
Siamese mixed cats are generally healthy cats, but like all breeds, they can suffer from some health concerns. Owners must be aware of these potential health problems and provide their cats with proper care and attention.
One of the most common health concerns for Siamese mixed cats is dental problems. Because of their small jaw size and crowded teeth, these cats are more prone to dental issues such as gum disease and tooth decay. Regular dental checkups and dental cleanings can help prevent these problems.
Siamese mixed cats are also prone to respiratory problems like asthma or bronchitis. These cats can develop allergies to dust, mould, or other environmental factors, which can cause breathing problems. Regular visits to the veterinarian and keeping the house clean can help prevent these respiratory problems.
Other potential health concerns for Siamese mixed cats include kidney disease, heart problems, and hyperthyroidism. Owners need to be vigilant and take their cats for regular checkups to catch any potential health problems early.
Grooming for Siamese Mixed Cats
Siamese mixed cats have short, dense fur that requires minimal grooming. However, they shed regularly, especially during seasonal changes, so owners should be prepared to brush their cats regularly to keep shedding under control.
Siamese mixed cats are also prone to hair loss, which can cause digestive problems. Regular brushing can help prevent hair loss, as well as providing anti-hair loss supplements or feeding a special diet.
Adequate nutrition is essential for the overall health of Siamese mixed cats. Owners should feed their cats a high-quality, balanced diet that meets their nutritional needs. It's also crucial to monitor their weight and maintain a healthy body.
In addition to nutrition and grooming, Siamese mixed cats require regular veterinary care, including vaccinations and preventative treatments for fleas, ticks, and other parasites. They should also be spayed or neutered to help prevent unwanted litter and specific health problems.
Adopting a Siamese Mixed Cat
If you are interested in adopting a Siamese mix cat, several options are available. Local animal shelters and rescue organizations often have cats available for adoption. These cats are usually already spayed or neutered, up-to-date on vaccinations, and receiving primary medical care.
When adopting a Siamese mix cat, it is essential to consider its personality and needs. Siamese cats are social animals that need attention and interaction, so giving them plenty of time and stimulation is necessary.
Additionally, Siamese mixed cats can suffer from separation anxiety, so it's essential to ensure they have company if you're away from home for long periods.
Before adopting a Siamese mixed cat, it is also essential to ensure you can provide for their needs, including proper nutrition, grooming, and veterinary care. If you need clarification on whether a Siamese mix cat is right for you, consider adopting one first to understand its needs and personality better.

Conclusion
Adopting a Siamese mixed cat can be a rewarding experience, providing love and companionship for both you and the cat. Before deciding to adopt a cat, it is essential to consider its needs and personality and your ability to provide for them. With proper care and attention, Siamese mixed cats can make excellent pets and bring joy to your life for many years.

Meet our writer, Noah, a self-proclaimed "cat whisperer" with a passion for feline behavior. Noah has spent the past 2 years studying the behavior of cats, and has become an expert in understanding their body language and social dynamics.
As a writer for our pet website, Noah shares his knowledge and insights on all things cat-related. From understanding why your cat is meowing to tips on litter box training, he has the expertise to help you create a happy and healthy home for your feline friend.